Saint Mary-of-the-Woods College Appoints First Provost
President Dottie L. King, Ph.D., announced that she is promoting Janet Clark, Ph.D., to the newly created position of provost at Saint Mary-of-the-Woods College.
"Dr. Clark has served as our vice president for academic and student affairs for 11 years, and, for nearly half of that time, she has also overseen the student affairs area in tandem. She has worked diligently to accomplish so much for the College during a pivotal growth time — always in The Woods tradition with dedication to the mission and our legacy," said King.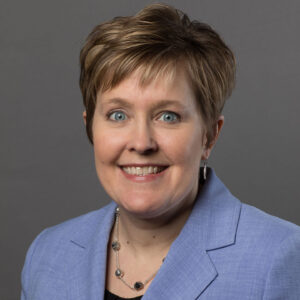 Clark's accomplishments include the reaffirmation of accreditation by the Higher Learning Commission for the full 10-year period, the addition of a fully accredited nursing program in both undergraduate and graduate levels, the integration of coeducation in the campus program and the implementation of initiatives from the Aspire Higher Strategic Plan, including the recent launch of the institution's first doctoral program, a Ph.D. in Global Leadership.
In addition, Clark has been successful with a number of significant grants including a $1.9 million Department of Education Strengthening Institution proposal and two Lilly Endowment, Inc. grants totaling $2 million. Clark is an active partner in working with grants and philanthropic gifts, which have helped enable the College to complete and fund such projects as laboratory renovations in Hulman Hall, the Learning Resource Center, the Butler Outdoor Classroom and the Gioannini Symposium.
"The College has been on a growth trajectory since 2015. As we've been intentional in expanding academic programming, student resources and co-curricular opportunities, it has opened avenues for increased enrollment, new athletic teams and new buildings, such as the most recent residence hall, Les Bois Hall," explained King.
King noted that during her leadership, Clark has brought to fruition a number of other undergraduate majors including kinesiology and exercise science, expanded the master in arts in art therapy curriculum and formed a partnership with the RIZE Consortium to open new academic pathways. Over the past few years, Clark restructured her department to provide more leadership opportunities at an administrative level, creating two academic dean positions and an associate vice presidency in student affairs.
Since spring 2020, Clark has led the College's COVID-19 Taskforce, working to establish a safe learning environment during the pandemic with no interruption of learning for all students — campus based, online or graduate. "The promotion of Dr. Clark to provost is well-deserved. She works at a high level and is currently working to assemble a team and implement a student success and retention initiative. She has elevated her job with continuous learning and improvement. She is a trusted colleague and a great resource for all of us," said King.